While reading the comments under a story about a Belgian art installment entitled Reading between the Lines by Gijs Van Vaerenbergh, I became upset again at some of the comments. One of them called faith "empty and hollow," while another said the piece of art was a "great metaphor for religion disappearing". One man asked, "Aren't all churches optical illusions?" And another called it a "pretty waste of materials, like all churches," he said.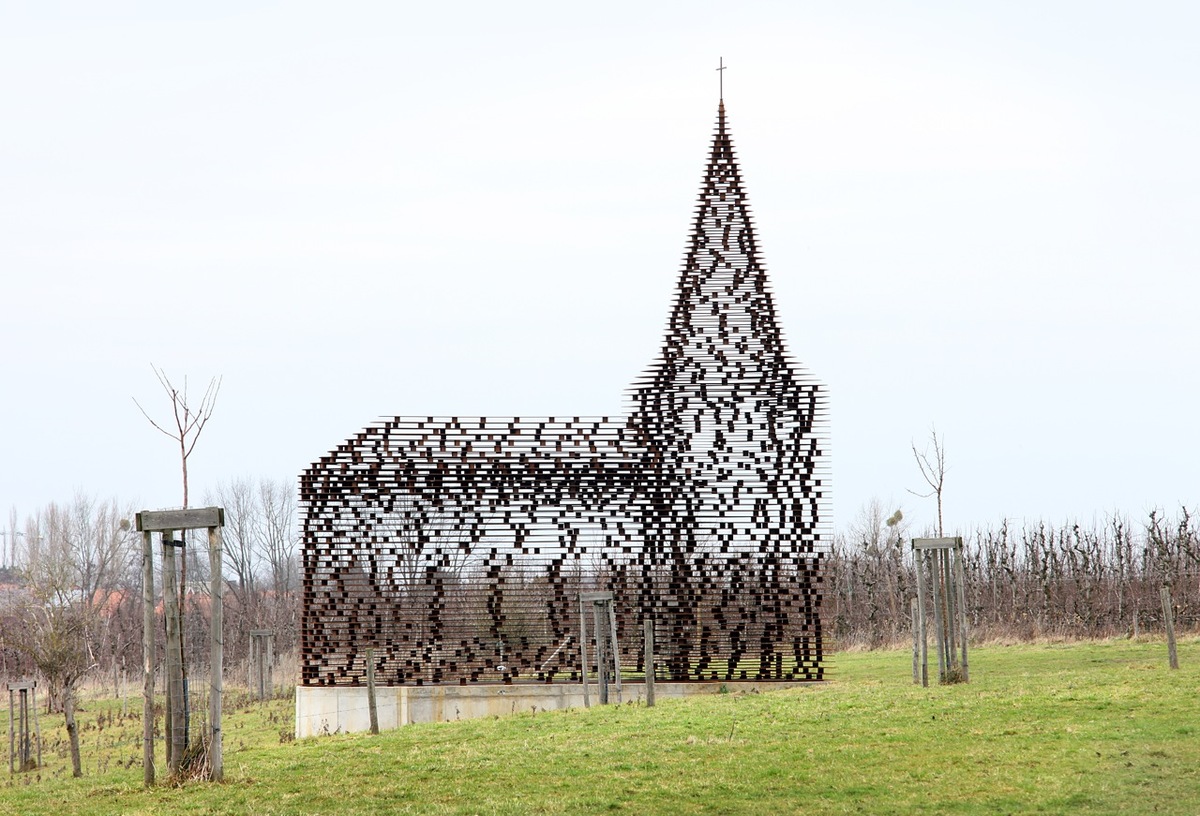 Before going on, I should explain that the art installment appears to be a shell of a church, with horizontal slats of wood approximately 6″ apart with small blocks of wood holding the slats apart. From a distance, it appears as though someone has painted lines on the landscape with blocks between them. I think it's a beautiful sculpture, even though its genesis was the idea of the small country church's declining membership. I see it as letting God's world come into the church, allowing us to not only see Him in church but through nature as well. (Click on the photo to the right to read the original article.)
Then the comments hit me again, the naysayers and the haters, the people who do not call any religion home but insist upon ridiculing all of them. To what end, I don't know. Do they actually believe that someone who worships in any religion will read the comments and think, "You know what, they're right. God doesn't exist. My faith is stupid, and my religion is unfounded." They must not know much about faith.
Throughout most of these negative comments, in this story and others, exists the thinking that people are born into a religion and are brainwashed at an early age as to what their set of morals and beliefs should be from birth. These commentators seem to think that most of us "religious types" cannot think for ourselves and do not wish to explore alternative ways of thinking beyond what we have been taught as children.
 Train up a child in the way he should go: and when he is old, he will not depart from it. ~ Proverbs 22:6
I don't think that's true at all. I was born and baptized into Christ's church, and more than a decade later I was confirmed as a Christian. I learned in my youth what it meant to be a Christian. I learned in Sunday School the stories of the Bible, how the world was formed, how mankind was saved through Noah and his family, how the faith of a virgin gave us Christ, and how the world will end someday. I learned that I should trust God to watch over me, and through Him I would be safe. I memorized the Lord's Prayer, the Apostle's Creed, the books of the Bible, and several Bible verses. Though this was what was expected of me by being raised in a Christian family, this is most decidedly not from where my true faith was born.
My true faith was born of so many questions, so much disbelief with the evil and sadness and unfairness of this world. That faith was tested when I lost a friend to death who hadn't even graduated high school yet. My faith was tested again as I lost children to miscarriages, hitting rock bottom on the last one. I don't know that I have ever felt so much anger and separation from God before or after that moment of hyperventilating and sobbing alone in a rocking chair in the corner of my living room, begging God for answer to a question that would never come.
That was the end of my faith, but the beginning of something so much stronger and more beautiful. From that point I had to fight and claw my way back to believing that God will always be right beside me. I'm certain that looking back in that sand only one set of footprints stumbled in my path for a lot of those times. That last time the footprints were probably all over the place and definitely not a straight line, as I was kicking and fighting the entire way back to my faith. I finally learned that the trials and tribulations are what makes my faith stronger.
Therefore, having been justified by faith, we have peace with God through our Lord Jesus Christ, through whom also we have access by faith into this grace in which we stand, and rejoice in hope of the glory of God. And not only that, but we also glory in tribulations, knowing that tribulation produces perseverance; and perseverance, character; and character, hope. Now hope does not disappoint, because the love of God has been poured out in our hearts by the Holy Spirit who was given to us. ~ Romans 5:1-5
Finding and keeping your faith is not an easy or sudden decision made lightly. And it's not something that you just have without question. It's something to be fought for and earned with every disappointment, every sadness, and every moment of anger in our lives. We can choose to turn away from God, stop believing that God even exists, and begin ridiculing everyone who still has their faith. Or, we can continue loving, keep having faith, and stay strong in our beliefs. One of my favorite  authors, Elie Wiesel, who survived Auschwitz concentration camp during World War II, said, " I have not lost faith in God. I have moments of anger and protest. Sometimes I've been closer to him for that reason."
Sometimes you may feel your faith is lost, in those moments are where you find it. You just have to stay strong and keep fighting.